Classic Vinyl Feel with Modern Digital Precision
Get your hands on the Rane Twelve, and you can experience authentic vinyl feel, along with all the benefits digital has to offer. Scratch and play with all the direct spontaneity of a turntablist. Take command of your performance without worrying about busted needles and skipping tone arms. And take advantage of the precision, repeatability, and durability of your DJ software. Twelve's traditional, familiar turntable layout is a breeze to navigate — you can even customize it with your favorite slipmat. You also get a multifunction touch strip for track searching and triggering hot cues. Twelve truly gives you the best of both worlds.
Motorized platter provides realistic vinyl feel
Twelve employs a full 12-inch motorized platter to control playback and is arranged in a traditional turntable layout. If you're an experienced turntablist, this DJ controller will feel extremely familiar and comfortable. You can operate the platter at 33⅓ or 45 rpm with adjustable torque for really dialing in the feel. A dual-resolution detented slider allows for classic beat-matching techniques. We've had a blast creating old-school wind-down effects with Twelve's Motor Off switch.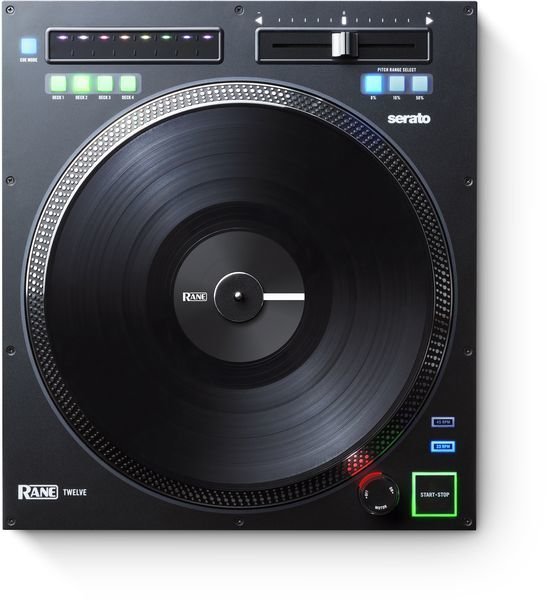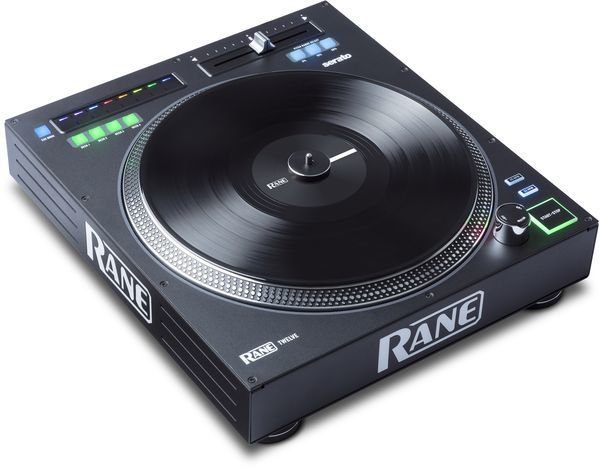 High-resolution control of your DJ software
The Rane Twelve's 5.0 kfcm high-torque motor delivers extreme precision — 3,600 ticks of platter resolution — for a seamless performance. A multifunction touch strip provides you with eight hot-cue triggers. Build a flexible setup with up to four decks of control and effortless USB-MIDI connectivity with Rane's Seventy-Two mixer or your computer.
Rane Twelve Features:
12" motorized platter provides authentic vinyl feel
Traditional turntable layout is familiar and comfortable
Delivers extreme precision — 3,600 ticks of platter resolution — for a seamless performance
Multifunction touch strip for track searching and triggering hot cues
Operates at 33⅓ or 45 rpm with adjustable torque for really dialing in the feel
Dual-resolution detented slider allows for classic beat-matching techniques
Motor Off switch for creating old-school wind-down effects
Build a flexible setup with up to 4 decks of control
Effortless USB-MIDI connectivity with Rane's Seventy-Two mixer for your computer
Auto-switching power for world-traveling DJs
Durable solid steel construction
Serato DJ OSA-ready